Our Pathway to Being a Keystone Individual
Wilderness is not a luxury but a necessity of the human spirit."

– Edward Abbey
Nature is the greatest teacher we have ever had. Even Einstein knew it when he said: "Look deep into Nature and then you will understand everything better."
Sadly, for us, we are so tied up in our own busyness and so controlled by our smartphones, that too many of us have forgotten that humans are as much a part of nature as every other living thing on earth.
That's why on Tasimba safaris we love to take curious-minded people out of the routine of their comfort zones and into the wilderness. Its vast, unspoiled space is, literally, a breath of fresh air that inspires them to look at themselves and their lives through a different lens.
As our guests become more deeply immersed in the wilderness, they learn that nature itself is intricately interconnected. From the great herds of elephants that surround them, down to the tiniest organism that the guides show them on a walking safari in the bush, they learn the wonders of Mother Nature
Keystone Species
It's then, too, that they understand that there is one particular interconnection in nature that is more overtly significant than many others, and that is the existence of what's known as Keystone Species (named after the wedge-shaped stone at the top of an old archway that holds the whole archway together).
A keystone species is one whose existence creates a beneficial outcome for other species in its ecosystem, by enabling those others to survive and thrive. Bees are the most well-known keystone species on earth. And in Africa, it is the magnificent elephant that is the keystone species of the wilderness.
"Africa's Gardeners"
Elephants earn their keystone species status for many reasons, including:
They create all the game trails that lead to water for other species to follow;
They create many of the natural "pans" (waterholes) for other animals to drink from;
They are nicknamed "Africa's Gardeners" because they prevent the forests from encroaching on the grassland, thus preserving plenty of grazing for other species like zebra and wildebeest: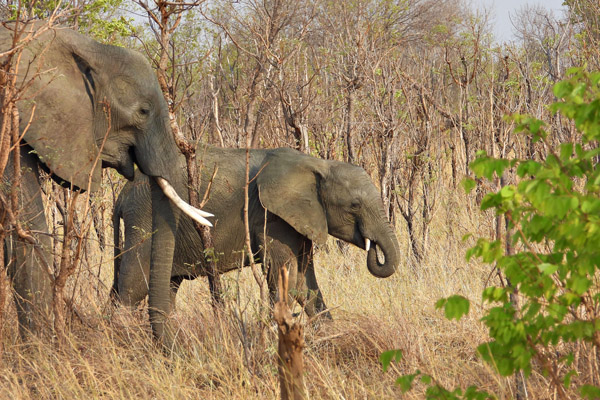 Because their dung often contains germinated but undigested seeds, and is rich in the nutrients of great manure, some of those seeds may take root while others become choice morsels for birds, insects and baboons which pick through the droppings.
Here's the thing: most humans, in our belief that we are nature's supreme species, believe that we ourselves are the keystone species.
We are not.
There is no other species whose very existence would be threatened if we were not here. Not one. Evenour domesticated animals would resort to their natural instincts and become rewilded.
But we can become Keystone Individuals and, if we choose, Keystone Leaders. Let's go back to our earlier definition of keystone species: one whose existence creates a beneficial outcome for other species in its ecosystem, by enabling those others to survive and thrive.
What we CAN do
By the actions we take as individuals, we can create a beneficial outcome for others in our biosystem.
We CAN create, by the way we live, pathways and tracks for others to follow;
We CAN preserve the "garden" which is our planet and preserve its capacity to support us and future generations;
We CAN focus our activities and behaviors for the primary benefit of others creating a legacy that will be remembered for long after we are gone;
We CAN leave our part of the world, no matter how small it may be, a better place because we were here.
That's what will make us Keystone Individuals and Keystone Leaders. And let's never forget we learned it all from the wilderness.
Why not you? Come on a Tasimba Safari to find your own keystone purpose.
We don't inherit the earth from our ancestors. We borrow it from our children."

– Chief Seattle
Watch this short video clip from a recent interview Hugh did with John Wilson, CEO of CEO Global Network. Invite Hugh to present his inspiring "Keystone Leadership" talk to your group!
Tasimba. Keystones. Naturally.
---
View our stunning safari brochures here
Contact us about our next safari. We'd love to have you join us!
Important note: We work exclusively with Africa's best eco-tourism company with whom you will be reliably secure in the knowledge that all current and new travel protocols will be always be adhered to. Be assured that we will postpone any trip if it is not safe to travel.